STEEL HUG

HRT (Croatian television)
2001 Documentary, color
25 minutes, BETA SP PAL

Director BRANKO ISTVANCIC
Script BRANKO ISTVANCIC
Dramatist SILVIO MIROSNICENKO
Camera BRANKO CAHUN
Editor DAVORKA FELLER
Music PERE ISTVANCIC
Sound JOSIP LACA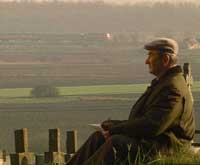 Synopsis:
Retired railway worker Pavo Bozicevic spent most of his life working at the railway station in the Croatian town of Vinkovci. Today, Pavo dreams about trains and runs an amateur dramatic group of retired railway workers. With them he stages little plays based on past real-life anecdotes from Vinkovci railway station - which was once the busiest railway junction in the former Yugoslavia. Now almost completely deserted, the atmosphere at the railway station strongly resembles that of a ghost town.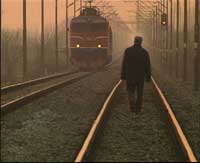 In motive of the day of Croatian railway and 125 years jubilee loch gate rail way Slavonski Brod - Vinkovci - Dalj, into a city museum of Vinkovci into a Monday in the evening show had documentary Steel Hug by director and screenwriter Branko Istvancic. It's about documentary made in 2001 year, which had in 2002 year won Special prize of jury at an 11th International Film Festival about railway Cinerail into a Lille, France. Movie rumour has it about railway pensioner Pavo Bozicevic who had arrant features board performance at an railway node Vinkovci, flashback does whilom lustre and very communication of the day when have been trains lumbering through cities at an river Bosut and today traffic wasteful you really. Legality documentary been had present award winning range director Branko Istvancic, he said that it is "sad story talk about evanescence life as we whilom live". Unattended Istvancic this had documentary size up features major willingly, and between his author share finding does and documentary The Cormorant Scarecrow, which had critical intromit to the best documentaries in 1990es in Croatia. About author of documentary rumour has it had and a network of Ljubica Gligorevic, custodian into a city museum of Vinkovci, master of museum establishment Stjepan Jozic, and numerous audiences give my regards to have and hero of movie Pavo Bozicevic.
G. Corkalo, Glas Slavonije, Croatian daily 2003
CONTACT: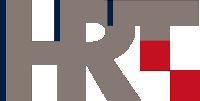 HRT - CROATIAN RADIO AND TELEVISION
International Relations Department
Prisavlje 3
10000 ZAGREB Croatia
Phone: + 385 1 6343691
Fax: + 385 1 6343692
E-mail: vladimir.spicer@hrt.hr
E-mail: branka.prazic@hrt.hr
www.hrt.hr